The goal for most aspiring artists is to make money. But many don't know where to begin, or think that it is a hopeless idea to ever make money from your artwork. While it is definitely not an easy task, with a little hard work, you can use your artistic abilities to help support yourself financially. In this article I'm going to explain a few ways that you can use to make some extra money, or change your career and become a full-time artist.
Traditional/Freelance Work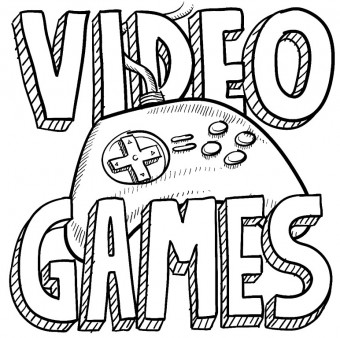 One of the best ways to make money as an artist is to use your talents to pursue a career in the movie and game industry. This path is especially sought after by most artists because the work is usually regular, which also means that the paychecks are regular too. There are a few things you need to consider when looking to start a career in the movie/game industry however:
You'll work in a team.  Often times you'll be hired as part of a team of artists who are collaborating on a single project. Because of this, you'll need to have excellent communication skills and be able to work seamlessly with others.
A college degree is often required. To land the best jobs in the movie/game industry, you will definitely need an associate's or bachelor's degree in art. It's best if you have an emphasis in a 3D modeling program like Maya, Blender, Cinema 4D, and Zbrush. If you're looking to work on video games specifically, then you should also get to know game engines such CryENGINE and Unreal Engine.
Limited opportunities.  You should also bear in mind that jobs in the game/movie industry are incredibly competitive and limited. You'll be up against the best artists in the business, so your skills need to be able to compete with these people.
Commissioned Work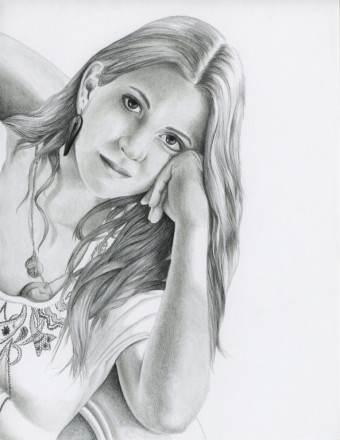 One of the first ways that many artists begin making money is through commissioned work. That means, a client pays you to do a certain piece of artwork for them such as portraits of people, animals or even fan art. This is becoming more and more popular since it's very easy for artists to get exposure online. If you would like to start making some money by doing commissions, then I would recommend getting an Instagram account (if you don't have one already) and a DeviantArt account where you can showcase your work. These platforms also allow you to gain followers who admire your art. Once you have a base of followers, you'll find that many of them are willing to pay for an original piece from you.
Commissions are also a really great way to keep your artistic skills sharp. You'll often find that people will request you to do a drawing/painting on a subject that you're not very familiar with. This forces you to step out of your comfort zone, and expand your skills as an artist.
Prints and Merchandise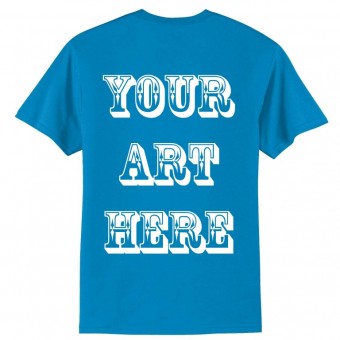 If you have a large enough body of work, you've probably got a few things that would make good designs to go on t-shirts, mugs, cell phone cases or other merchandise. If so, there are plenty of companies online who want to create that merchandise for you. Companies like
Redbubble
and
Society6
offer artists the ability to upload their own original artwork, which can then be turned into merchandise that consumers can order.
What makes this such a great opportunity is that these items are printed on-demand once a customer orders one of your designs. They're also sold through Redbubble and Society6's websites which means that you have no overhead. These companies print and ship the merchandise. They then take a percentage of the sale, and pay you the rest. It's a no-risk way of putting your designs on all types of products.
There is a downside to this method of making money, however. You won't typically make a killing off of just one t-shirt sale. And typically one design won't sell very often. So that means that you'll need a large body of artwork with plenty of designs for people to choose from in order to make good money.
Art Galleries
Art galleries have been helping artists sell their work for generations, and they are still a solid option today. Many very prominent artists have their own private galleries, but you can also find open galleries where any artist can show their work. Typically, open galleries charge a membership fee, along with a commission on each piece that is sold. This is a great way to get some exposure as an artist as long as you are okay with giving up a portion of your money back to the gallery owner.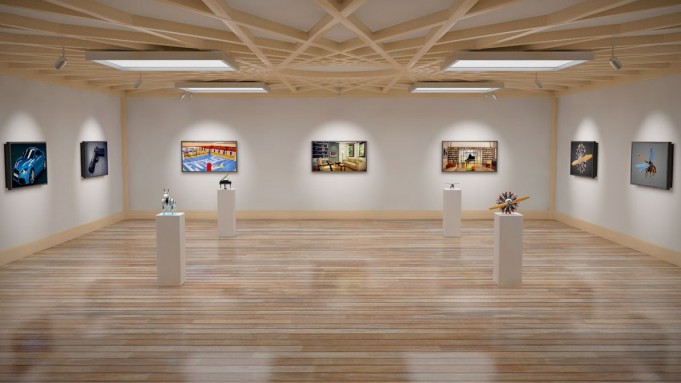 The great thing about open galleries is that they typically are in high-traffic areas of the city and get a lot of visitors. The downside is that there isn't usually a lot of available space for new artwork, and the fees can be quite expensive. There is also no guarantee that your artwork will sell quickly—or that it will sell at all. But the reward far outweighs the risk.
Teaching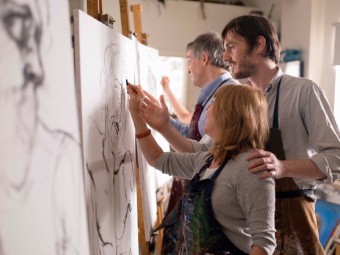 Being an art teacher at the grade school, high school or college level is a great way to have a career in the art world. Teaching offers many of the same benefits as working in the movie/game industry, such as job stability, regular work hours and regular pay. Unfortunately, it comes with many of the same drawbacks as well. Often times a position as an art teacher may not open in your area for many years. This also requires a Bachelor's degree with an emphasis on teaching.
Teaching isn't for everyone though. If you don't truly love teaching, art and children, then this is not a career path that you should follow. But if you do, then teaching can provide you with a way of using your artistic talents to have a long and fulfilling career.
All Of The Above
First and foremost, if you're trying to make a career of art, you should never limit yourself to one revenue stream. Making a living as an artist can be an incredible challenge and you'll need all the help you can get. In the beginning it would be best to combine several of these methods to diversify your income. For instance, you could tutor art students privately while you have your artwork in several galleries, while also having a Society6 store that sells your own merchandise. Use as many of these methods as possible until you find your comfort zone both artistically and financially. Good luck!
Extra Help
Check out the video below from Draw with Jazza for his take on what it takes to make it as a full time artist. There's a lot of great info in there, so be sure to watch it from start to finish!
What About You?
Let me know in the comments if you've ever had a career in art, or what methods you've used personally to make some extra money with your artwork.
---